Home theaters, as dedicated rooms or integrated in multi-purpose rooms, are becoming a necessity for many homeowners and families. It goes without saying that the ongoing pandemic has had a major effect on our lives, and the ways we have had to bring many experiences closer to home. Throughout 2020, there was much speculation about what our "new normal" would be and which adjustments would have lasting effects throughout our culture and society. Now, we're beginning to settle into those new norms.
In 2020, movie theaters across the globe were shut down as a safety precaution. In response, streaming services began to offer direct-to-home releases. During the height of the pandemic, around May 2020, Variety shared a poll that showed that 70% of people stated that they would prefer to watch movies at home, even if given the option to go to a theater. Now, almost two years later – not much has changed, even with public theaters open again. The majority of people would still rather watch a movie at home, and streaming services continue to offer home releases alongside their theatrical debuts. Enter the home theater.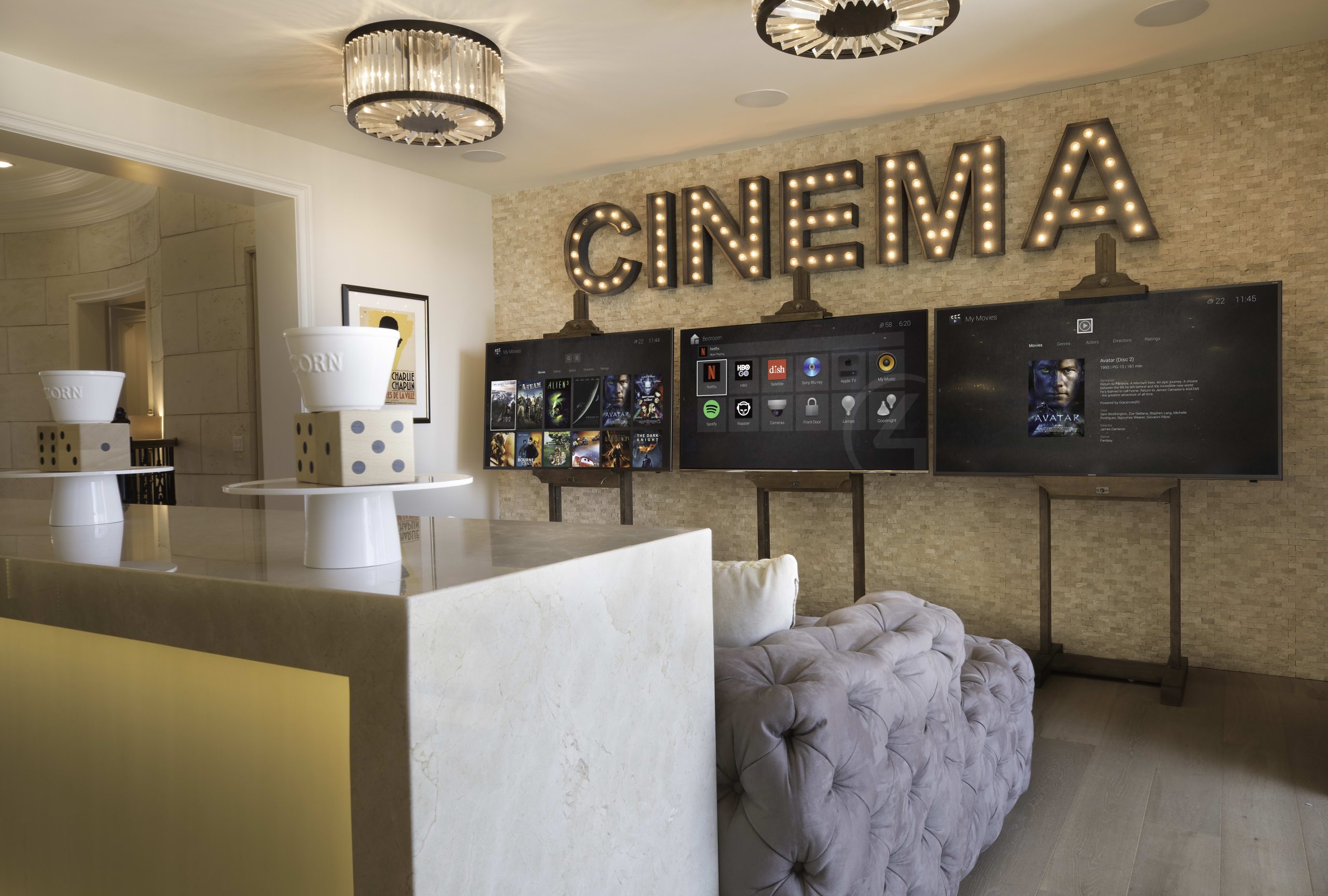 How to Create and Elevate Your Home Theater
Once viewed as a luxury for the rich and famous, home theaters have become much more accessible to the everyday consumer. With simple upgrades and considerations, a simple TV room or entertainment space can bring the cinema experience home, with the comfort, privacy, and safety your own house has to offer.
Start with the "big screen"
Your home may not be able to fit a 45-foot tall, but you can certainly make the most of your wall space. Televisions have come a long way and the right screen can make a big impact on your home theater. Enjoy dazzling, crisp images with Sony's line of Full Array LED, OLED, and HDR displays. Want to go even bigger? Sony projectors can make your movie nights and game days feel even more immersive with larger-than-life 4K images. No matter the size of your room, Sony has options to bring you true-to-life color, brighter whites, darker blacks, and more.
Tip: Remember, when it comes to your TV, bigger isn't necessarily better. Check out this guide to calculate the best TV size for an optimal viewing experience.
Enjoy larger-than-life picture with a Sony 4K projector
Level up your audio
Immersive sound is the next step in making your home theater truly powerful. What you might miss most about the movie theater experience is the thunderous volume of sound – audio that you can feel. Not only is immersive sound possible in your home theater, but it can be customized and perfectly suited to your space. Brands like Sony and Sonos offer affordable products that offer an immediate improvement on the quality of your sound. Sometimes, even a little can go a long way. For smaller rooms, products like the Sonos Beam or Arc can bring you breathtaking sound and the immersive experience of Dolby Atmos. Their Trueplay smart technology can even measure the acoustics of your room and adjust accordingly.
Experience 3D audio with the Sonor Arc soundbar
Looking for more luxury in your sound? For true movie lovers and audiophiles, explore premium options from Klipsch and MartinLogan to hear music and dialogue so clear, you'll feel like it's happening in the same room as you. For a cutting-edge all-in-one home theater sound system, the Klipsch Reference Cinema Systems has you covered.
Build atmosphere and comfort
Once you've got the essentials covered, it's time to personalize your home theater to suit your comfort needs. This room should serve as an entertainment oasis. With some extra touches, you can take it to the next level.
Adding smart lighting in the room can really set a mood. Through automated smart lighting, you can easily customize your favorite settings to set "scenes" depending on your mood or activity. With a simple tap, "movie time" can dim the lights in your theater and turn off the rest of the lights in your home. You can even install color-changed smart lights for some extra personality.
 Nothing says "theater experience" like comfortable, cushy seating. Upgrade your chairs or couch to ensure that everyone has somewhere to put their feet up and rest their drinks and snacks.
To properly enjoy your home theater screen, you'll need to prevent any glares or unnecessary light. If your room has windows, installing smart motorized shades is a great way to block out sunlight out at the tap of a button. You can even integrate them with the rest of your smart home system, including your lighting, to complete your movie time scene.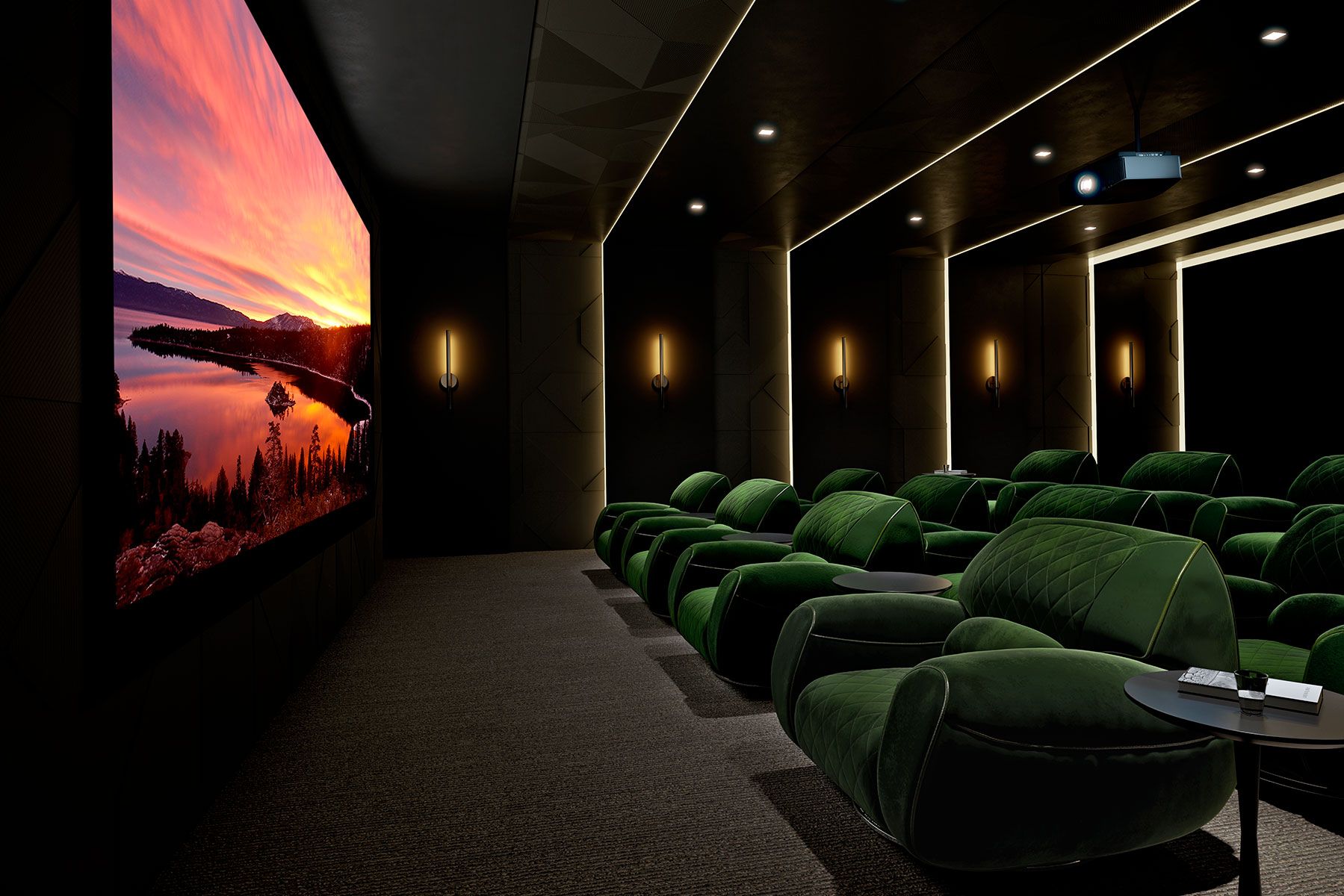 Add the final touches
Consider these the cherries on top of your home theater sundae. Make your room a full sensory experience by bringing your favorite parts of the movie theater home. Set up a "concession stand" with a popcorn machine, snacks, and even a bar. Get your favorite movie posters printed, framed, and hung on the walls.
We know, the choices and options can be overwhelming. Depending on the type of home theater experience you're looking for, you may be faced with endless research, price comparing, designing, and logistics. Sometimes, it's better to work with a pro.
Phoenix Systems can help you design and install the home theater of your dreams, customized with devices from Sony, Sonos, Klipsch, MartinLogan, and more.
Ready to upgrade your home?
Reach out to us at 678-566-2640 or sales@phoenixsystems.tv and a Phoenix Rep will be happy to discuss your needs and options!