'Tis the season for lots of holiday travel plans! If you and your family are planning to leave town to visit family, skip the cold, or just keep a tradition going, you'll want to make sure your home is safe and secure while you're gone. While the holidays are a time to enjoy family and fun, there is also high risk for potential thieves and intruders. Here are five quick tips that will keep your house safe and give you the gift of peace of mind to enjoy your vacation without worries.
1. Schedule Your Smart Lights
Leaving your home dark for days can be all too inviting for potential intruders. On the other hand, you wouldn't want to come back from your holiday trip to burnt out lightbulbs and a high energy bill. With smart lighting, you can give the impression that your home is occupied by setting your lights up to run on an automated schedule. Porch lights can come on when the sun sets and then off in the morning, and you can even run your inside lights to look like you're home!
2. Share Access With Trusted Neighbors and Family
Depending on how long you'll be on your holiday vacation, it may be helpful to have a trusted friend, neighbor or family member check in on your home. You may even have a pet sitter coming in and out, or a friend stopping by to water your plants. Rather than making extra copies of keys, which can easily be lost, set up special access codes for your smart lock that they can use temporarily. 
Setting up these unique user codes will not only allow them access to your home, but you will be able to check to make sure that they paid your home and visit, and when.
BONUS SAFETY TIP: Avoid publicizing your holiday travel plans on social media and keep it on a need-to-know basis (with only your trusted friends and family). You can always share photos and memories when you're back home!
3. Set Up Your Video Doorbell
If you're expecting sensitive packages to be delivered while you're traveling for the holidays, and your neighbors and family are only stopping by periodically, a video doorbell can help you be notified once they reach your doorstep. Plus, you can even direct the delivery person to the safest location, including inside your garage by remotely opening it! 
Video doorbells are also a smart way to get notified if someone is at your door. By remotely responding via a two-way audio system, you can let visitors, delivery people, and potential intruders know that you've got eyes on your home.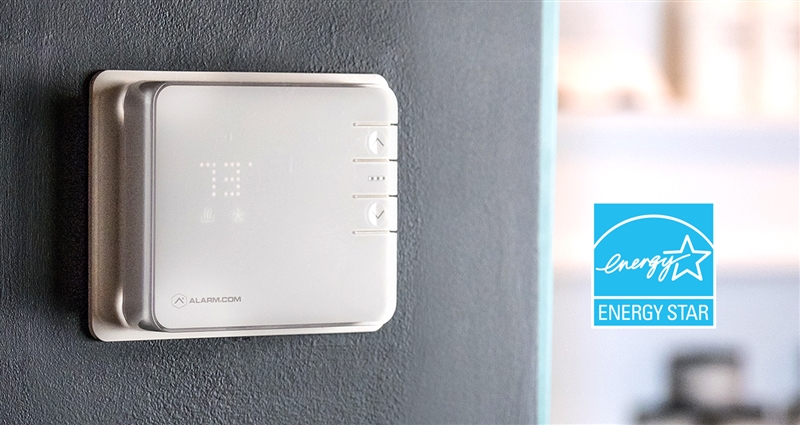 4. Save Energy With a Smart Thermostat
There's no need to keep the air conditioning or heater running on full blast when nobody's home. Save on energy usage and costs while you're away by setting it to a more eco-friendly "away mode". Don't worry, it can still keep your home from reaching unsafe temperature levels. Then, when you're heading back home, simply adjust the settings remotely so your home is cozy enough to welcome you back from your vacation!
5. Lock Up with Confidence on Your Way Out
Have you ever set off on a road trip only to have to turn around 10 minutes later because you couldn't remember if you locked the garage or front door? With smart locks powered by Alarm.com, you won't have to doubt yourself. You can easily check all your doors at a glance from your smart phone, and remotely lock up if there were any left open. 
Next time you're ready to leave home for your holiday travel plans, do a quick check in the Alarm.com app, tap the button for your automated "Away" scene, and you'll be ready to go with absolute peace of mind. Your system can even check smart sensors on your windows and other openings to the house to ensure that your home is totally secure. Once you're out, the doors can lock and the alarm system will arm and you can leave your worries behind.
Ready to Upgrade Your Home?
Our Smart Home Pros are ready to help you and discuss your options. Reach out to your local Phoenix Systems today!