Spooky season is upon us, which means we've got the scaries on our mind. But, it doesn't take ghosts in the attic to stir up chills and unease in a homeowner. Having a home and family to look out for comes with a few worries. We've listed some of the most common homeowner fears, and how to conquer them using simple smart home devices and home security tips. 
1. Intruders or unexpected visitors
A mysterious and unexpected knock at the door or shadowy figures around your house are the stuff of horror movies. Your home should be a safe haven and the last thing you want is an intruder breaking in or a stranger sneaking around.
Remove the mystery with smart security cameras and a Video Doorbell that you can quickly and easily access through your Alarm.com app. You'll be able to see exactly who's at the door and respond, as well as monitor both inside and outside of your home.
Plus, with a professionally monitored system, you can rest easy knowing that authorities will be notified of any danger or suspicious activity.
2. Water leaks
Few things strike fear into a homeowner's heart like the thought of an undetected leak. All it takes is a few minutes for a leaking pipe or split washer hose to get much worse, turning into a flood that could cost you big time.
Stay prepared with simple smart home devices to protect your home. Wireless water devices can fit in vulnerable areas like under sinks, behind washers, in attics, etc. With a Smart Water Valve, you can detect and shut down leaks, even when you aren't home.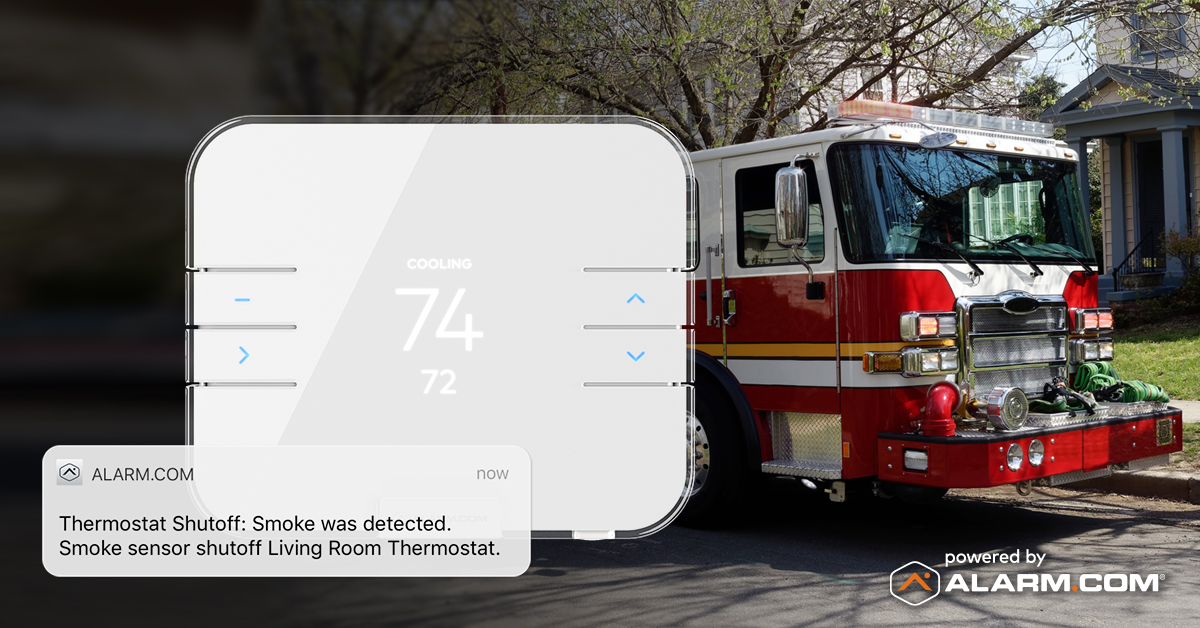 3. Fires & Carbon Monoxide
A raging fire or silent and invisible toxic fumes: very different monsters, but both are terrifying and extremely dangerous! Thankfully, smoke and carbon monoxide detectors can easily be added to your home and integrated into your Alarm.com security system.
Not only will your detectors notify you of the danger, but it will contact authorities as well. Plus, they can work alongside other smart devices, like shutting off your Alarm.com thermostat to prevent the spreading of fumes.
4. Leaving the doors unlocked
You know that feeling when you've left your home, it's too late to turn back and suddenly…you cannot remember if you closed your garage door on your way out? It's enough to send a chill down your spine and get you into an instant state of unease.
Put your mind at ease with smart locks that you can lock and unlock, no matter where you are. You can even customize your "scenes" to automatically lock up when you're on your way out.
5. Leaving pets home alone
Leaving our furry family members on their own can feel like leaving a piece of your heart behind. We worry about their safety and wellbeing, and we may feel suspicious about what they get up to while unsupervised.
With indoor cameras, you can keep an eye on them throughout the day. Plus, you can even give dog walkers access with a custom code on your smart lock and get notified as they come in and out.
6. Coming home in the dark
Kids aren't the only ones afraid of the dark and the answer is always simple: add a little light. Smart lights can be easily automated to turn on at sunset, and off again in the morning. Or, you can use custom "scenes" to have your selected smart lights turn on to greet you when you arrive home.