April is National Stress Awareness Month, and we've got some tips on how smart home technology can help put your mind at ease! While our homes are often our most reliable happy place, it goes without saying that they can also become a source of worries and stress on owners and renters. From safety concerns to bills and basic upkeep, having a smart home system with security at the center can take much of that pressure off so you can breathe easier and maintain your peace of mind.
Rest assured that your home and family are safe
More than likely, your home is where everything that matters most to you is. From our family and pets to valuable possessions and important documents, it's enough to make you stress constantly about your home's safety and protection!
Without smart home security in place, these worries can weigh on us throughout our days, as we constantly wonder if we locked up on our way out, if the kids are alright on their own, and who or what may be around our homes. With a fully integrated smart home security system powered by Alarm.com, you can lower those stress levels by knowing that safety and peace of mind are always at the tip of your fingers.
The Alarm.com app provides a quick overview of your home via a mobile app, so you can easily make sure the doors are locked, the alarm is armed, and even glance over your security cameras to make sure everything looks normal. Plus, customizable notifications will keep you up-to-date on any alerts you need to know so you can leave those worries behind.
Keep an eye on your pets
Leaving your furry family members home alone can weigh heavily on pet owners. Not only do we worry about their wellbeing and safety, but also the mischief they may get into when left unsupervised!
Indoor cameras are a great way to keep an eye on your pets and give you one less thing to stress about. Devices like smoke and carbon monoxide detectors are also essential to ensure that in the event of an emergency, responders will be notified even when you aren't home. Plus, with Video Analytics technology, you can set up virtual "fencing" alerts to notify you if your pet is, say, jumping on the couch or kitchen counter when you're not around!
Lower your monthly energy bills
Nothing stresses us out quite like bills do! If you find yourself constantly running around flicking off light switches or stressing about how your family can better manage their energy use, smart home tech can take care of that for you. Smart lighting and smart thermostats are essential smart-home tools that can help you manage your energy usage much more efficiently. 
By customizing your devices according to your schedule, or even using geo-fencing technology, your home can automatically turn off the lights, TV, thermostat, and other devices when you aren't home. Or, if you're guilty of leaving the porch light on all day, and the kids forget to flick the switch on their way out, you can easily turn them off remotely via your smartphone.
Additionally, water detection sensors can safeguard your home from the #1 driver of insurance claims: leaks and floods! Alarm.com's Smart Water Valve+Meter can not only detect leaks and shut them down before they get worse, but these sensors can also alert you about excessive water consumption so you'll know if a toilet is running or if those showers are getting too long. No more money down the drain!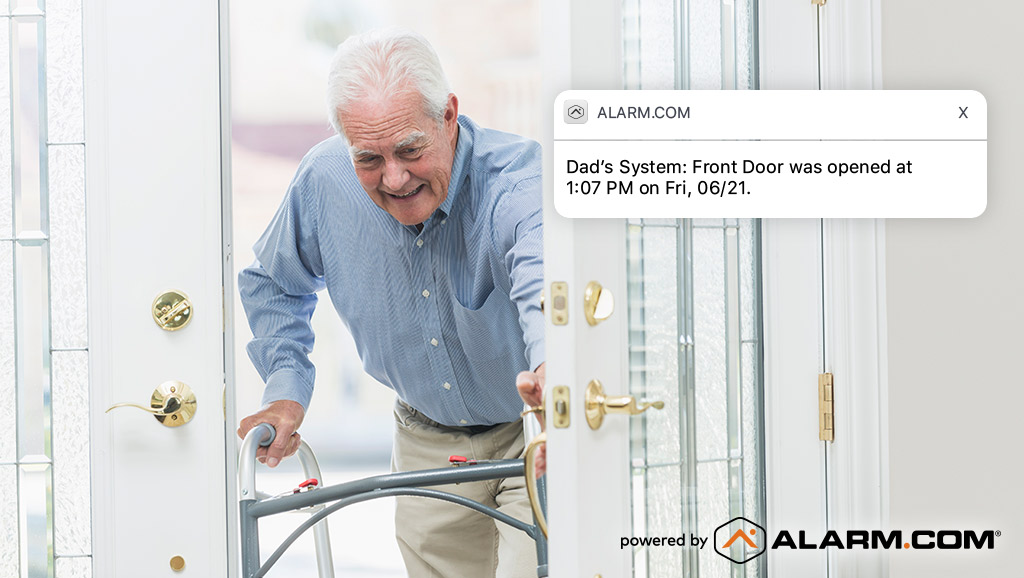 Protect your loved ones from far away
For those of us with older family members and loved ones who aren't as close as we'd like, Wellness Technology can help you keep them safe and stress less about their day-to-day wellbeing. Using non-intrusive sensors, these home security features can help them maintain their independence while allowing you to check-in and monitor them from your own mobile device. These customizable sensors and alerts can notify you if a medicine cabinet or refrigerator was opened (or, if it hasn't been opened by a specified time), track their activity levels throughout their homes so you can ensure they're up and about, and alert you if there's a security issue in their home. 
These devices provide peace of mind for the whole family and even allow you to easily chat using the Wellcam camera, so you don't have to stress as much about the distance between you.
Monitor and manage your business
For business owners, having a storefront, warehouse, or office often means extra stress with a whole other property to worry about! Thankfully, smart security is not only available for business properties as well, but integrated features and devices can tailor your system to help you keep things running smoothly and safely.
For example, if you find yourself worrying about leaving your inventory stored overnight, devices like smart sensors and thermostats can help you monitor and manage access as well as keep conditions optimized. Plus, access control and security cameras give you an overview of who is coming in and out and when. Stressing about whether or not your staff remembered to lock up? Smart lock control is always at your fingertips!
Ready to upgrade your home?
Reach out to us at 678-566-2640 or sales@phoenixsystems.tv and a Phoenix Rep will be happy to discuss your needs and options!