Spring is (almost) in the air! With warmer, sunnier days around the corner and spring less than a month away, now's a good time to start preparing your home for the transition. In addition to going on a spring cleaning spree, here are some ways yu can cover your basics, from making sure your home is comfy to getting it ready for outdoor entertainment. 
Check the roof & gutters
Rain, ice, sleet, and snow – your home weathers a lot during the winter. In preparation for those spring showers, you'll want to clean out any debris that may have collected in your gutters and make sure that they haven't sustained any damage like holes or cracks.
Same goes for the roof. Visually check the condition of your roof and look out for any damaged shingles. Give your attic a visit and check for any signs of leaks. Make sure to get any issues taken care of and repaired by professionals as soon as possible!
Get smart about air conditioning
As temperatures change, so will your air conditioning needs. If you haven't already, consider upgrading to a smart thermostat. Through customized automation settings and access through your mobile phone, your thermostat can adjust based on your schedule and even save on energy costs when you're not home. 
While you're at it – cover the basics too. It's likely your HVAC system's air filter collected lots of dust and debris over the last season so now's the time to swap it out for a new one.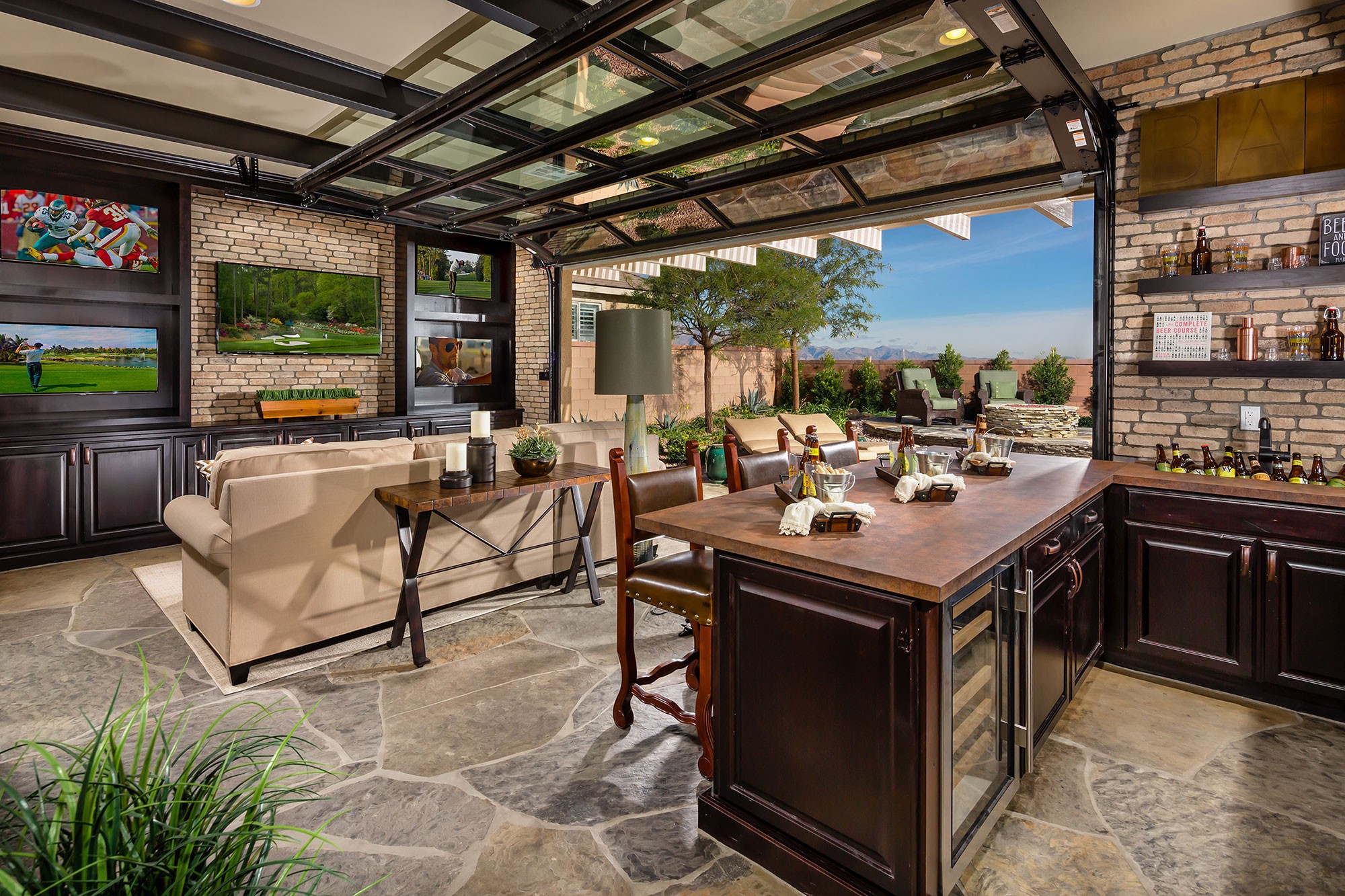 Prepare the backyard and patio
Soon, it'll finally be time to swap out for sweaters and boots for sunhats and flip flops! Before your family and guests start heading out back to soak up some sun, make sure your backyard is ready to entertain.
Do some basic landscaping by removing any stray branches or dead leaves that may have fallen all over your yard. Tidy up your shrubs and bushes and get those mowers and garden tools ready! If you have a deck or patio you like to relax on, do a quick check for any structural damage it may have suffered over the winter.
Then, take entertainment to the next level with outdoor video and audio. An outdoor TV is made to withstand the elements of all seasons, so you won't have to worry during those cold winters and blazing hot summers. Complete your backyard oasis with outdoor speakers that blend in seamlessly with your landscaping and provide the perfect background ambiance for all those upcoming picnics, barbecues, pool days, and more.
Do a home security audit & upgrade
Here's a tip that's good for all seasons. While many of us prefer to stay curled up at home during the winter, the Spring may mean more hustle and bustle as the family wanders in and out of the home more frequently. Keep up with everyone and ensure your home stays safe with smart home security devices like video doorbells, smart door locks, and security cameras with video analytics. 
Plus, a new season is always a great time to do a quick security audit with your home and family. Check all of the fire and carbon monoxide detectors and potential fire hazards and make sure they're in good shape. 
Ready to upgrade your home?
Reach out to us at 678-566-2640 or sales@phoenixsystems.tv and a Phoenix Rep will be happy to discuss your needs and options!