Like any long-term relationship, the one you have with your home is special and requires tending to. Whether you just recently moved in and are still in the honeymoon period, or have years of ups and downs behind you, there's always room for a little more love (and dare we say, romance?). Here are some simple ideas about how to spark or rekindle your love for your home, just in time for Valentine's Day.
Clean up nicely
Hear us out. It may sound like a chore (okay, technically it is) but cleaning and organizing your home is a surefire way to help you better see the things you love about it. Nothing kills a love affair like letting things get messy and unkept. With spring right around the corner, it's the perfect time to plan a cleaning party with the family and even find better organizational solutions that work for everyone.
If cleaning still sounds like a drag, find a system that works for you. Whether you look to Marie Kondo to help you spark joy or make the most of your time like the FlyLady, there's a way to make it fun. Make your organizational systems beautiful and aesthetically pleasing so you'll swoon each time you walk into a room and say "well, you clean up pretty nicely."
Show the real you
We know you probably have great taste in home décor and never fail to show off your interior design skills. But aren't the quirky, unique things what makes something truly lovable? Adding some personal touches around your home will essentially surround you with reasons to smile. Plus, when you have guests over, those pieces are what you'll really be happy to show off and they'll usually have a great story to tell.
Instead of keeping your kids' art projects tucked away, find some nice frames or ways to display them throughout your home. Or, if you have a furry family member you'd like to honor, hire an artist or photographer to capture their essence with a fun or sophisticated pet portrait. If your family has strong roots in a different town or if there are places that hold special meaning to you, you can find map prints to keep those memories close. Remember, authenticity is key in a great relationship, so don't be afraid to show off the things that make you special.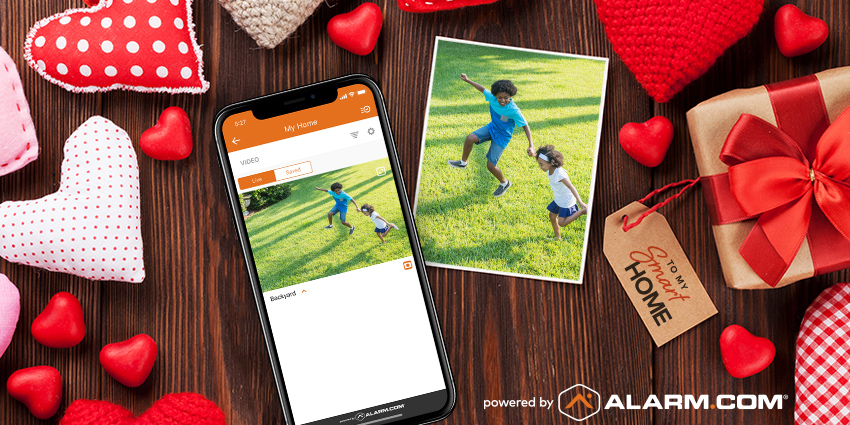 Take comfort in its safety and smarts
This may seem like a shameless plug, but trust us on this. One of the marks of a truly healthy and thriving relationship is the feeling of safety, familiarity, and comfort together. That's especially important in the relationship you have with your home.
Having a smart home security system not only puts your mind and heart at ease, but it can enable your home to "anticipate" your needs – sometimes even without you having to ask. Simple automation options allow your home to adjust your lights, thermostat settings, security system, and more to welcome you home, help you ease into sleep, or start your day on the right note. In a way, you can start to feel a true partnership with your home as it helps to help your family safe and everyone comfortable.
Spice things up and make memories
No-one wants to feel like they're simply "going through the motions" in their relationship, right? Make sure that your home isn't a space in which you simply fulfill your basic needs like sleeping, showering, and eating. By creating special moments and memories, you add more reasons to love it. Then, you'll be able to smile whenever you recall building a pillow fort in that corner of the living room, or when you had to clean up a flour spill after baking a spaceship-shaped cake.
Especially these days when gatherings are limited, it's important to fill your home with fun, unusual, special, and sentimental moments. Plan more stay-cations, movie nights, game nights, family parties, and memory-making.
Ready to upgrade your home?
Reach out to us at 678-566-2640 or sales@phoenixsystems.tv and a Phoenix Rep will be happy to discuss your needs and options!