This year, nothing has been more sacred to us than the safety and comfort of being at home. No matter what, it's a place of own our that we can retreat, relax, and regroup for the next day. Of course, for many of us, home is a place we have to share and we've had to find our own personal spaces and moments for ourselves and re-define our routines and habits. With the holidays upon us, we'll be spending more time together at home than ever. While thinking of what we can give to our loved ones, this season and in the year ahead, remember that there's nothing like the gift of a house that truly feels like a home.
While you can't exactly leave a home makeover or smart home under a tree, here are some ways that smart home tools and automation can be a truly unique gift for the whole family.
For Him: The Gift of Big, Bold Entertainment
Whether he's a movie buff, sports fanatic, or hardcore gamer, he likely has a dream entertainment room in mind. More than your average man-cave, a smart home theater or media room can amplify his experience with premium, immersive audio, a mounted TV or 4K projector, and customizable lighting.
For film connoisseurs, Phoenix can help to design and create a home cinema experience complete with plush theater-style chairs, a screen that's 2 – 3 times the size of your average television, and heart-pounding surround sound speakers.
For sports fans that bleed the colors of their team, we can mount that 4K TV where everyone can see it, and make sure that he hears every call and play-by-play with in-wall speakers and a universal remote to control it all (and rewind, pause, and analyze the plays for himself).
Does he need to get into the "zone" when playing his favorite game? We've got him covered with TVs that do his next-gen console justice and 3D audio soundbars for a truly immersive experience.
For Her: The Gift of Relaxation
At the end of a long day filled with work, errands, or family schedules, she deserves some hands-off "me time."  With some simple smart lighting and automation, it's easy to set the scene for relaxation.
Transform her bathroom or personal room into a home spa experience. Whenever she gets a moment to herself, a quick tap of a button or voice command can trigger an automated scene where the lights will dim, the motorized shades come down and her favorite music fills the space. All she has to do is sit back and relax.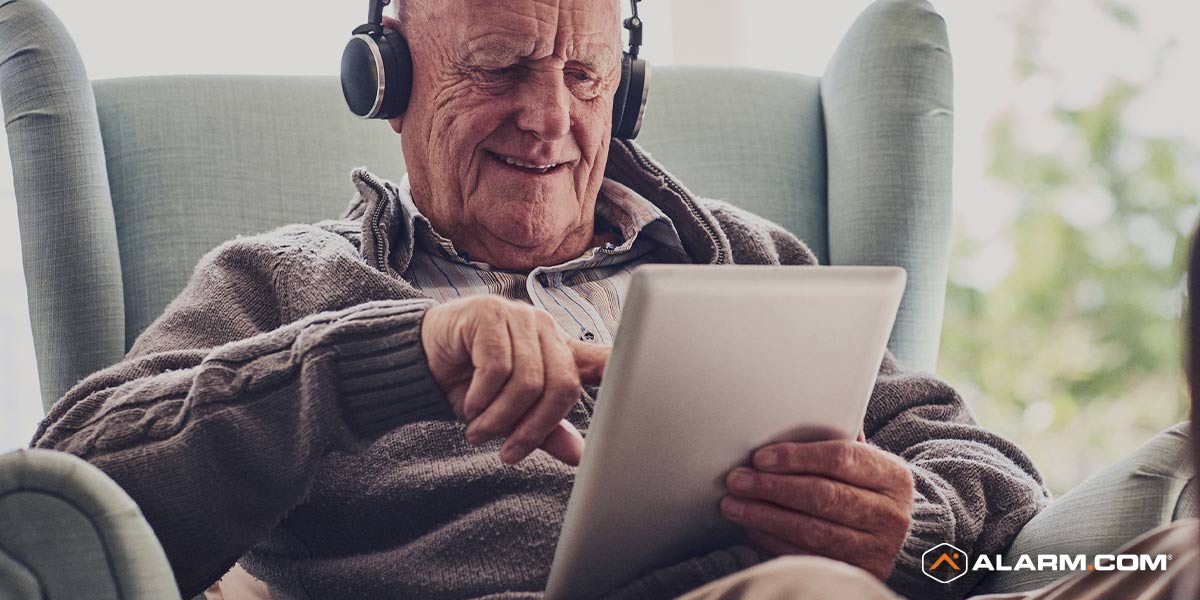 For Your Older Loved Ones: The Gift of Independence
As our loved ones get older, some things become more important and precious than ever, like their independence and comfort at home. While "smart homes" may sound too high-tech for our favorite senior, it can actually make their home tasks much simpler, while also providing peace of mind for you. With Wellness Technology powered by Alarm.com, you can help out around the house and keep track of their activities – even from a distance.
With a Wellcam in their home, your loved one can easily reach you without having to find their phone and you can instantly get some "facetime" with them and check in on them. For those of us who have gone long stretches without visiting our older family members lately, you know how much of a gift this is!
Plus, by setting up a smart thermostat, smart lights and smart security in their home, you can help to automate their favorite settings so that even when they're forgetful – their home will keep them both comfortable and safe. Special sensors in their beds, medicine cabinets and hallways can also keep you up to date on their patterns and activities to ensure that they are well
For the Kids: The Gift of Control
When it comes to the younger ones, they can often feel like they don't have any power in the house – and there's nothing they like more than to feel like a grown-up!
With a smart hub like Amazon Alexa in the home, it'll be easy for them to use voice control to do their own simple tasks like turning the temperature up or turning off the lights. Plus, with a universal remote like the Neeo by Control4, it'll be much easier to fire up their favorite Netflix show or even turn on the speakers. Just remind them, whoever's got the remote is the boss – they'll love setting up their own scenes for movie night or game time.
Ready to upgrade your home?
Reach out to us at 678-566-2640 or sales@phoenixsystems.tv and a Phoenix Rep will be happy to discuss your needs and options!