'Tis the season to be jolly, not stressed! From holiday gift shopping to hosting, there's a lot to keep track of around this time of the year. With simple smart home options, you can have a worry-free season and focus on relaxing and celebrating. Here are three of our favorite ways to use smart home tech during the holidays.
Protect your packages
We know you didn't create the perfect holiday shopping list and scour the Internet for gifts just to have them stolen by a porch thief! Around this time of the year, package theft ramps up – you've probably seen the videos or heard stories of missing deliveries. With smart home security, your package doesn't have to be left vulnerable while you're away from home.
With a smart Video Doorbell powered by Alarm.com you can be notified as soon as your package arrives on your doorstep. If you're home but too cozy to get the door, you can simply greet the delivery person via your app and ask them to leave it at the door. If you're not home, you open up the front door remotely using your smart lock and ask them to leave it inside.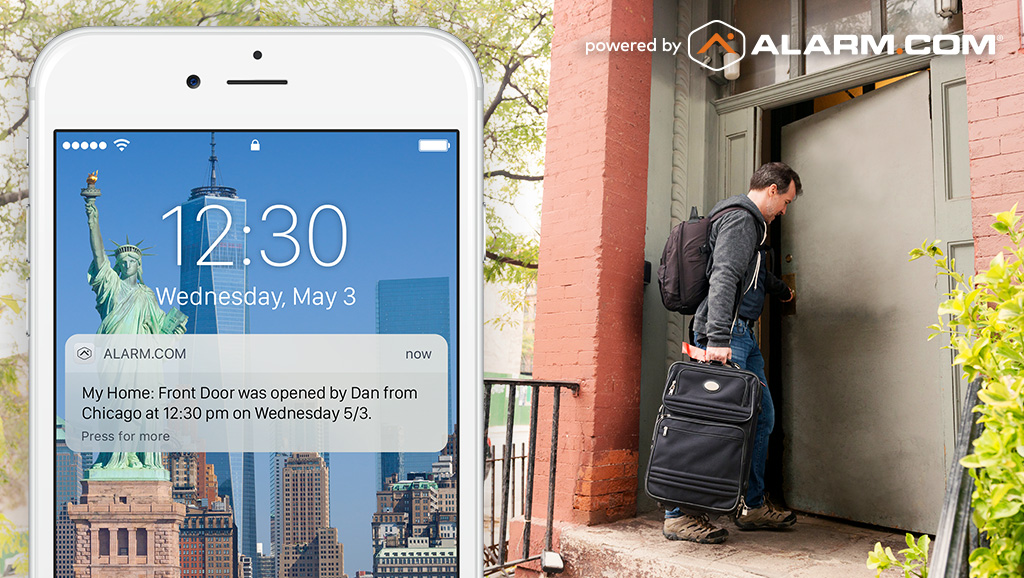 Make your guests feel at home
If you have family or close friends coming in from out of town to stay, nothing makes someone feel at home like the freedom to come and go. Having multiple spare keys out on the loose isn't safe or convenient, so you can skip that hassle and provide your guests their own access code instead.
With their unique code, they can open and lock up while they do their own shopping, sight-seeing and exploring. Plus, you can easily check your Alarm.com app (or set up notifications) to keep track of when they're home or away. You can even set an expiration date for the code for after they leave town.
Bonus Tip: This holiday season, celebrations and visits should be done extra safely. We suggest you consult the CDC's latest guidelines for holiday gatherings.
Keep it light
Your energy bill that is. Nothing gets us into the holiday spirit like twinkling lights around the house, inflatable snowmen on the lawn, and a perfectly lit tree. Smart lighting will help you avoid unnecessary energy usage by allowing you remote control of all your lights, or even better – the ability to automate them. That way, your beautiful lights can turn on to greet you when you come home but won't be left on during the day.
Bonus tip: Planning to get away with the family for a holiday vacation? You can schedule your smart lights to turn on at certain times or at random to make your home seem occupied, deterring potential intruders.  
Interested in these smart home options?
 Our Phoenix reps are ready to discuss your options and install smart home technology to suit your needs.
Reach out to our Design Studio at 678-566-2640!