Your home security system should (and can) do more than alert you when there's already an emergency. With a smart, comprehensive system, you can keep eyes on your home and all of the activities that go on there. Video Monitoring, powered by Alarm.com, offers a suite of insightful features that can give you complete peace of mind, wherever you are. Plus, with easy access right from your Alarm.com app on your smartphone or tablet, you can remain in control, while your security system does the "busy work" of gathering and reporting useful information about your home. Here are five of the best features you can use with Video Monitoring:
Coming at you live, anytime, anywhere
Whether you're taking a well-deserved vacation with the family or simply working hard at the office, peace of mind is only a click away. Using your Alarm.com app, you can access HD-quality coverage of your home to make sure things are running as they should be.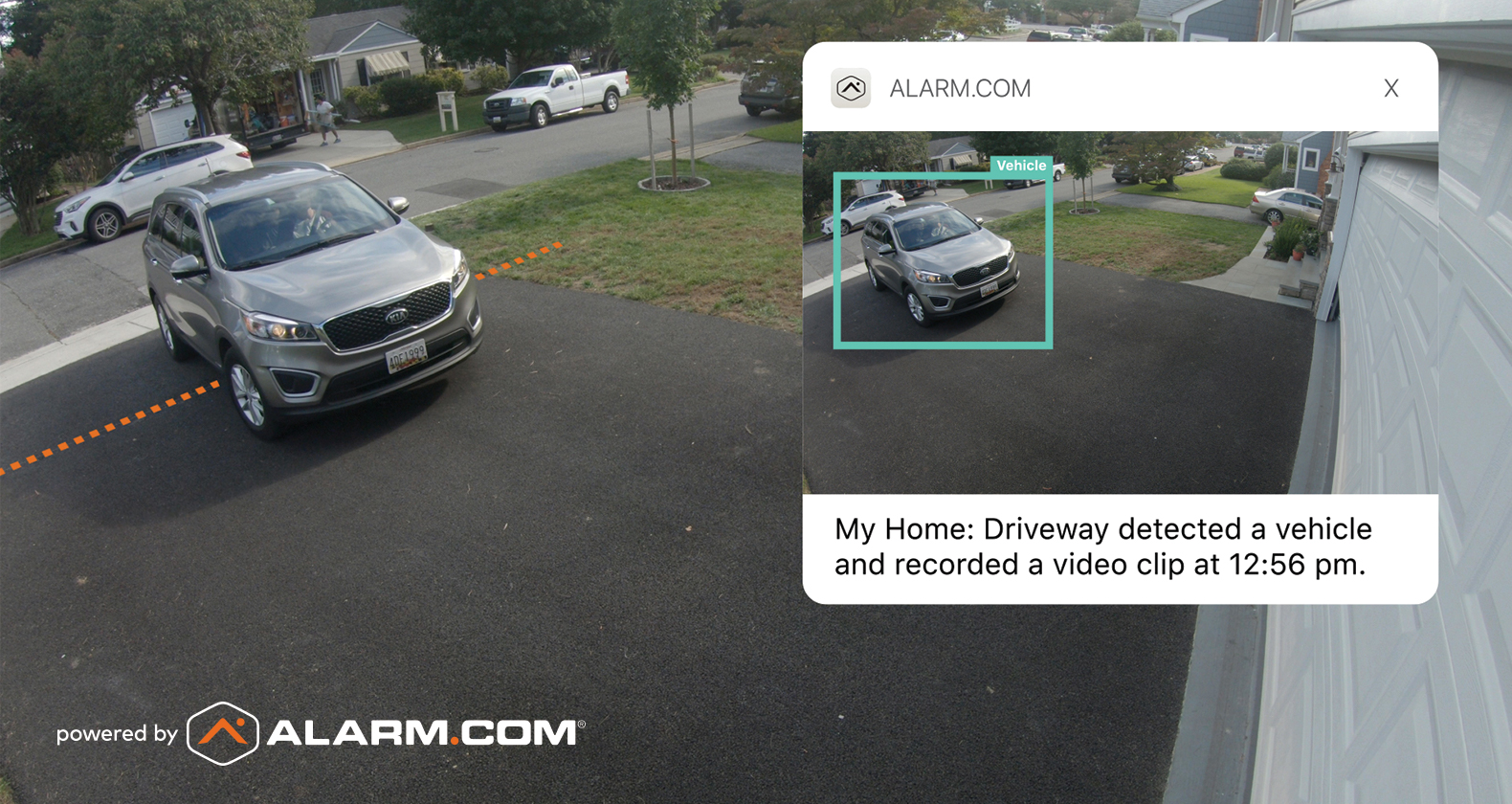 Video Analytics provides more insight
When it comes to security, there's smart, and then there's really smart. Alarm.com's Video Analytics features use artificial intelligence technology to identify and categorize what it "sees" and alert you (or not) accordingly. It can let you know if that moving object in your driveway was a car, person, or animal and even analyze its behavior.
By allowing you to create virtual zones and "tripwires", Video Analytics will be able to tell you if a vehicle stopped outside your home, without bothering you every time one drives by. You'll know if your precious pet gets a little sneaky when you're away by napping on the couch. You can also be alerted when someone lingers around your house, but not when the mail is delivered.
Continuous, uninterrupted recording
Do you ever wish you could go back and replay a moment? Maybe you'd like to know how that vase got knocked over or even just re-live a special moment that happened at home. With Continuous Recording, your Alarm.com system can capture and save HD footage 24/7. Content is recording with the Stream Video Recorder (SVR) and is bandwidth-optimized so it won't weigh down your internet connection.
Smart Clips for need-to-know alerts
When managing a busy family's schedule and activities, it helps to have a security system that knows what's important to you. Your video cameras can coordinate with your system to send you automated alerts that keep you in the loop. So, when the kids arrive home, or the back door is unlocked, or the system is disarmed, you'll automatically get a short video recording of the moment when it happens.
Answer from anywhere with a Video Doorbell
Who's that at the door? With an Alarm.com WiFi-Enabled Doorbell Camera, you can see who's visiting your home, even when you're not there. With your Alarm.com app, you can access a two-way voice feature that lets you speak to whoever is at the door, no matter where you are. Easily communicate to the delivery person where you'd like them to leave your package, greet your guests, or thank the dog walker!
Ready to upgrade to Video Monitoring?
Reach out to us at 678-566-2640 or sales@phoenixsystems.tv and a Phoenix Rep will be happy to discuss your needs and options!